Narrative Enneagram Core Program
Enneagram Intensive Part 2
with Renée Rosario and Christopher T. Copeland
You may register for Part 2 if you have already completed Part 1. If you previously attended Part 2, you are welcome to attend again. It's a great opportunity to refresh your knowledge and explore the next step on your Enneagram journey.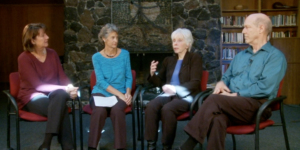 Part 2 of the Intensive addresses this question, "Now what? How do I use this powerful knowledge?" that students often ask at the end of Part 1. In this three-day training, you will learn the defense systems for each Enneagram type and how to work with your patterns of reactivity. In addition, you will participate on a type panel focused on your next step of growth and what helps and hinders the process. The supportive field of compassion generated by the community holds each participant in their inquiry.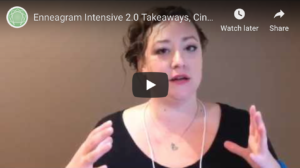 Part 2 includes type panels in the Narrative Tradition, a powerful set of pre-recorded meditations by Helen Palmer illuminating the defense system and path of growth for each type, short didactics, self-observation and movement practices, and small-group exercises.
See full program description >
Fees, Discounts and Registration
Tuition: $650
Early Bird: Save $60 if you register by June 17, 2022

Are you eligible for one of these additional discounts?
Note: discounts cannot be combined.
Students: Full-time students with ID currently enrolled in a school,
college or university save $75 off either early-bird or standard
tuition.
Bring-a-friend: Save $25 off either early-bird or standard tuition
when you and a friend register at the same time.
Non-Refundable Deposit: $300
Due at the time you receive the registration invoice
1/2 of Payment Balance Due: May 18, 2022
Final Payment Balance Due: June 29, 2022
Upon the completion of this registration form, you will be sent an invoice to make your payments. The payment plan includes the cost of tuition, room and board, and any additional add ons.
Room & Board
Double Room: $495
Single Room: $540
Commuter: $285
Extra Night Before or After: $135
Schedule & Location
Daily from 9 am-6 pm Pacific
Tuesday, August 9, 2022
Wednesday, August 10, 2022
Thursday, August 11, 2022
Vallombrosa Center
50 Oak Grove Ave.
Menlo Park, CA 94025
Transfers/Cancellations
Last day to cancel and receive a partial refund: June 29, 2022
Final day to register: July 4, 2022
View our cancellation policy
CCEs
Completion of Enneagram Intensive – Part 2 qualifies for 13 Continuing Coach Education (CCE) hours for Core Competencies and 4.5 hours for Resource Development (RD) by the International Coach Federation.
Contact
To learn more, email the Registrar or call 866-241-6162, ext. 1 (toll-free) or +1 303-305-4362 (from outside the U.S.)